About OTC BBQ
Here you will find out how OTC BBQ started
2008
OTC BBQ started in Nov.2007 at 59 N @ The Texas Fuel Stop and moved to Fm1314 and Old Sorters rd. in Dec. 2007. Been there everysince the next move they make it will be in a restaurant. OTC is here to stay and OTC put the "B' in BBQ the 'S' in Smoke we even put the "SLAP" in Slap your mommy cause it that good!!!!
The owner Rick Franklin and his wife Linda wanted to start up there own business now for 7 yrs, everyone was telling them they needed to, So thats when they started saving there money and 7 yrs later they opened "Off the Chain BBQ".
But first let me tell you a little about Rick He would get up early on Sundays and cook a BIG BREAKFAST and we all knew that so we would show up at 8 o'clock and eat!! and Sunday dinner would be ready around 1pm we would have Fried chicken,greens,yams,corn bread,mac n cheese,rice n gravy and more......we would have that one sunday and the next its thanksgiving in JULY everything down to the dressing.Heres something funny about him, He would go to the store buy a cake bring it home and tell everyone he made it!!! :) but we knew!!! ;) after are big dinner we all go outside, sat around watch the kids and ride horses and that would go on for hours, that's when he was home see Rick was a truck driver for over 20 yrs he went to just about every state, he seen alot of snow "he would evern bring snow home for the grandkids" he was gone for weeks at a time called everyday to check on his family and when his family needed him he was always there to help them out and if he couldn't he would find a way to help he's that type of person that would give the shirt off his back to help someone, But before that he worked in a restaurant as a head chef for 10 yrs. at a Houston area Country Club so you can say thats where he learned his cooking skills, he loves to cook and make people happy he is a out going funny husband to Linda, A Friend to alot of people and PapaRick to 4 Grandkids- 5 mons old Jorden,3 yrs. old aailiay,6 yrs.old Derrick Jr.,11yrs. old Joshua.a Father to Rickey Jr. of Houston Tx Stepfather/ to Chris of Mississippi,Tanya of Cleveland Tx,Michelle of Cleveland Tx, and a great father-in-law to Trish ,Derrick Sr. and Brian.
The History and Story Behind OTC BBQ
When considering barbecue, tradition is particularly important. Barbecue is not easy to prepare - it requires hours of tending a hot smoky fire, and vigilant monitoring of the roasting meat. Although times have changed and our equipment is a bit more modern, Barbecue preparation is still reminiscent of a time when people would spend their time in a covered shack, inundated with smoke (especially during the blazing summers of the South). And barbecue endures.... Despite encroaching health regulations, despite inconvenience, and despite the prevalence of fast food restaurant all over the country, people still eat barbecue, and "pit men" still hone their craft.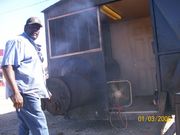 Do you know Rick and have a funny story about him or know something he did thats funny? Well let us know email us and let us know and we will post it here on the page.